"I have always enjoyed the stark simplicity of Jo Manning's etchings. Her trees mesh textural sensations with age-old resilience; her compositions are abrubtly cut, offering the viewer only a sliver of nature. Yet that sliver is often a Truth." – Kathleen Walker, The Citizen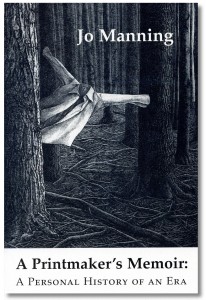 Jo Manning is ideally placed to chronicle the past seventy years of printmaking in Canada. In the course of telling her personal story, she provides an absorbing account of the experience of a female student at the Ontario College of Art in the 1940s, and then of a young artist trying to find a place for herself in the art world. After an interlude in which she raised a family, she returned to active participation in the 1950s, and we follow her through the next decades as she masters many more aspects of the printmaker's craft, makes the acquaintance of an array of lively artistic personalities, becomes involved in art education, and plays an important role in many of the Canadian societies and associations that have worked to make the artistic profession viable.
This book is no longer in print.